NingXia Red™ 4 Pack Case
Benefits:
Great tasting!
Energy
Longevity
A wide range of nutrients
Description
Add a daily shot of NingXia Red® to your diet to enjoy the benefits of this powerful, whole-body supplement. This sweet and tangy drink's formula includes wolfberry, which is touted for its health benefits. Also featuring plum, aronia, cherry, blueberry, and pomegranate juices and extracts, Young Living's NingXia Red is packed with superfoods to support overall wellness.
In addition to these antioxidant ingredients, NingXia Red's formula includes pure vanilla extract and Lemon, Orange, Yuzu, and Tangerine essential oils for a great-tasting, healthy treat.*
Young Living NingXia Red benefits include support for energy levels, normal cellular function, and whole-body and normal eye health. A daily shot of 2–4 ounces helps support overall wellness with powerful antioxidants.*
750-ml bottles of NingXia Red are Halal and Kosher certified.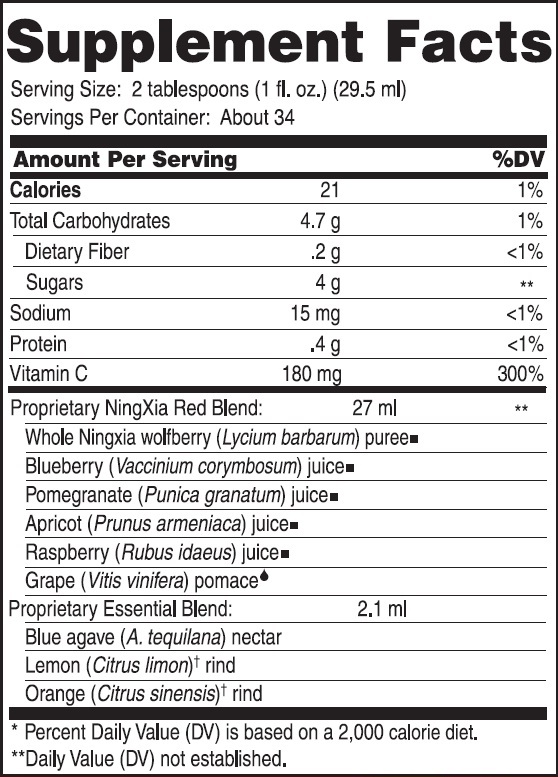 Ingredients
Proprietary NingXia Red Blend 29g
Ningxia Wolfberry Puree (Lycium barbarum), Blueberry Juice Concentrate (Vaccinium corymbosum), Plum Juice Concentrate (Prunus domestica), Cherry Juice Concentrate (Prunus avium), Aronia Juice Concentrate (Aronia melanocarpa), Pomegranate Juice Concentrate (Punica granatum)
Proprietary Essential blend 50mg
Grape (Vitis vinifera) seed extract, Orange EO (Citrus sinensis), Yuzu EO (Citrus junos), Lemon EO (Citrus limon), Tangerine EO (Citrus reticulata)
Other ingredients:
Tartaric acid, natural blueberry flavor, pure vanilla extract, malic acid, pectin, sodium benzoate/natural stevia extract.
Supplement Facts:
Serving Size:: 1 fl ounce (29.5 ml) Servings per container:: About 25 Calories: 20 Total Carbohydrates: 5g Dietary Fiber: <1g Sugars: 2g Sodium: <5mg